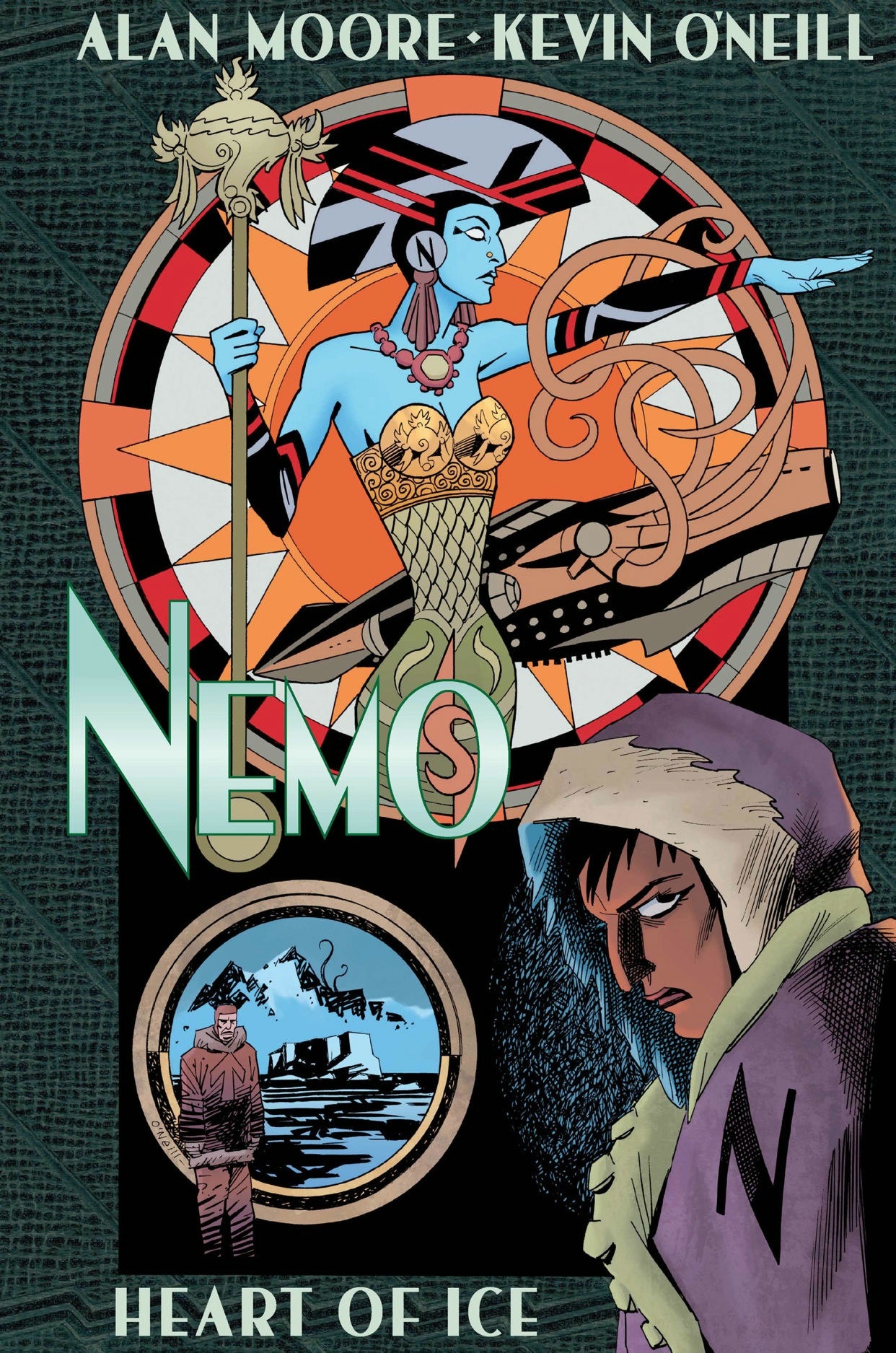 Nemo: Heart of Ice is a volume in The League of Extraordinary Gentlemen series, written by Alan Moore and illustrated by Kevin O'Neill.
Fans of The League of Extraordinary Gentlemen will be excited to find out that creators Alan Moore and Kevin O'Neill have delivered a spin-off story not long after the end of the Century trilogy. Published jointly by Top Shelf Productions and Knockabout Comics, this is how the publishers have summarized the plot for your easy consumption —
It's 1925, fifteen long years since Janni Dakkar first tried to escape the legacy of her dying science-pirate father, only to accept her destiny as the new Nemo, captain of the legendary Nautilus. Now, tired of her unending spree of plunder and destruction, Janni launches a grand expedition to surpass her father's greatest failure: the exploration of Antarctica. Hot on her frozen trail are a trio of genius inventors, hired by an influential publishing tycoon to retrieve the plundered valuables of an African queen. It's a deadly race to the bottom of the world — an uncharted land of wonder and horror where time is broken and the mountains bring madness. Jules Verne meets H.P. Lovecraft in the unforgettable final showdown, lost in the living, beating and appallingly inhuman HEART OF ICE.
As usual, Moore strings together characters from various fictional universes (in the public domain, of course) to weave his own distintive story. This time around, we find ourselves in the pulp fiction world of the 1920s, when science-adventurers captured the imagination of its reader. Moore uses his 56-page allotment economically, setting up the conflict quickly and resolving the same with a deft touch. It's basically one big chase scene across the frozen wastes of the South Pole before both pursued and pursuers get their minds blown by the horrors torn from the pages of Lovecraft's In The Mountains of Madness.
These frightful conjurings are brought to life by O'Neil's wide-eyed angular illustrations. The grizzled features of Janni's henchmen contrasted greatly with the relative youth of the young Captain. And once the crew slips into Lovecraftian territory, O'Neil is adept at delivering horrific representations of these classic monsters as well.
Nemo: Heart of Ice is good pulp-ish fun all round in the grand LOEG tradition. Not to be missed!