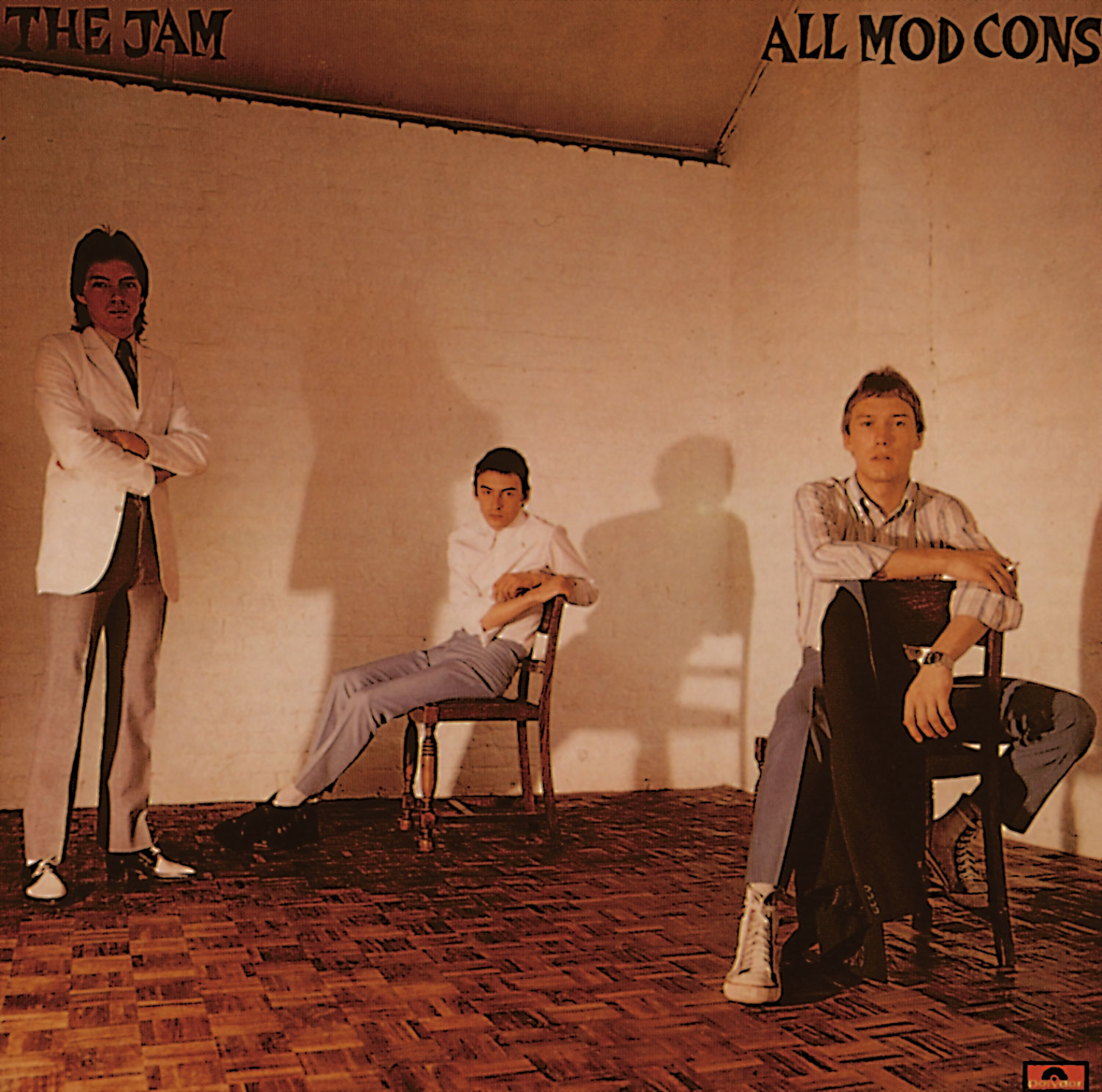 The Jam – All Mod Cons was the third album from the pop-rock trio hailing from Woking, England and released in 1978. Consisting of Paul Weller (vocals and guitars), Bruce Foxton (bass and vocals) and Rick Buckler (drums), The Jam were critically acclaimed and commercially successfully in the U.K. for their short recording career viz. 1977 – 1982.
The first two albums were banged out within the year of the band signing to Polydor Records and both In the City and This is the Modern World were raw and spiky spurts of punk rock energy while channeling the Mod influence of The Who and The Small Faces. With All Mod Cons, The Jam came of age as a band while Weller flexed his songwriting muscles to great effect.
Weller also began his social commentary smithery with nods to the real world vignettes of Ray Davies (The Kinks) as well as a strong English working-class socialist world-view. A faithful cover of The Kinks' "David Watts" sits nicely amongst Weller originals without looking out of place. The early tracks on the album viz. "To Be Someone (Didn't We Have a Nice Time)" and "Mr. Clean" set the tone effectively, with emotive lyrics ranging from the tongue-in-cheek ("No more cocaine, now it's only ground chalk!") and rage-filled angst "cuz I hate you and your wife and if I get the chance I'll fuck up your life!"
The rest of the album also includes a couple of songs bearing romantic sentiments e.g. "English Rose", "It's Too Bad" and "Fly" while "In the Crowd" and "The Place I Love" represent personal life reflections. However, with respect to potent socio-political commentary, The Jam have seldom delivered better than "'A' Bomb in Wardour Street" and "Down in the Tube Station at Midnight". The former is a campy jaunt about London being attacked by nuclear strikes (very real Cold War paranoia) and the latter, an epic rocker that describes the tragic fate of a young man in a London train station.
The Jam – All Mod Cons is without doubt a Classic Album for the reasons set out above. Absolutely bloody essential!
Buy now from Amazon | Read more Classic Albums reviews
… still there's more …