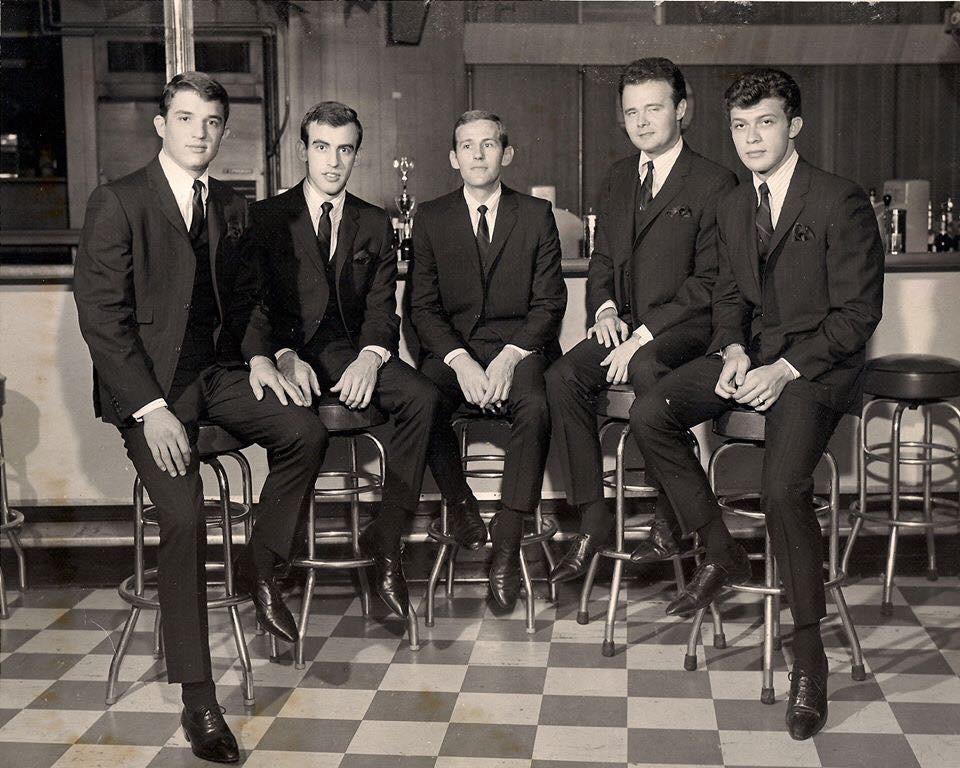 Should Rock Music Be Supported by Governments? is an opinion piece.
Back in 1965, a band called The Canadian Squires (above) released a single called "Leave Me Alone". That was a big mistake. In the mid-60s, Canadians did not appreciate music made-in-Canada. According to writer Ritchie Yorke, the question on the lips of most Canadian radio programmers was – "What's the use of growing your own tomatoes if you can buy them inexpensively at the nearest supermarket?" Indeed, why support Canadian artists when American artists are so much better?
Who were the Canadian Squires? They would later move permanently to the USA, back a well-known folk singer called Bob Dylan and eventually become critically acclaimed artists in their own right as The Band. This was a familiar story in the 60s for Canadian artists as the likes of Paul Anka, Neil Young and Joni Mitchell had to go south to fulfill their musical dreams.
So what did Canada do about this problem? I quote this excerpt from Canadas Talent's A Brief Walk Through Canada's Music History.
"The Canadian government eventually passed content legislation to support Canadian artists. Beginning in January 1971, AM radio stations were required to devote 30 per cent of their musical selections to Canadian content. It was a controversial move, but one that helped highlight Canada's music culture and establish a "pop star" industry of its own. And in the 1980s and 1990s, the exploding youth culture helped change the face of Canada's music industry."
The Canadian government would also institutionalize various funding initiatives to support Canadian music. The Canada Music Fund is one such example. This Fund provides for the financial support of producing and promoting recordings, educational development of the music industry, aid to record labels and music entrepreneurs "to become increasingly competitive nationally and internationally and to play a leading role in the global digital economy".
This proactive stance has proved very fruitful over the years. Think of the multitudes of successful Canadian artists in the last four decades – perhaps without these initiatives, you might have never heard of Rush, Barenaked Ladies, Drake or even Arcade Fire.
Canada's success has been replicated in other countries like Australia and Sweden and is an excellent model for any country facing the same dilemma as Canada did in the 1960s regarding their music industry.
Should Rock Music Be Supported by Governments? So, what is your response?
By the way, this is the single that got zero airplay on Canadian radio in 1965 by The Canadian Squires…
(Thanks to Barney Hoskyns' brilliant bio of The Band – Across the Great Divide – which where I got the historical information from re: The Canadian Squires)
… still there's more …