Continuing our lookback at our publishing history with a decade-old review of Brass Bed!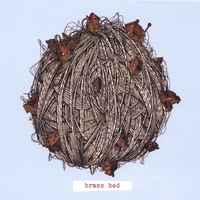 BRASS BED Midnight Matinee (Self released)
I'm guessing that Brass Bed got their name from Dylan's Lay Lady Lay but I could be wrong.
However, I am definitely right in saying that Midnight Matinee will touch all the right zones for lovers for eclectic indie pop-rock that has the jones for 60s psychedelic-country-folk-rock-blues!
There are a few seemingly contrasting styles that Brass Bed are playing with but somehow the band manage to make it all work and come up with a sound that is distinctly theirs. Sure, you can identify the influence of Flaming Lips and Wilco easily in the mix of genres but Brass Bed never once comes goes soft on expectations.
It certainly helps that Brass Bed keeps things fluid in terms of their utilization of instrumentation with pedal steels, honky tonk pianos residing gracefully with electronic sound effects. Interestingly, Brass Bed is not afraid to stir up visceral indie cred with poppy harmonies.
Thus, gorgeous tracks like the haunting BBC Midnight Broadcast, the Tex-Mex So I Shrugged My Shoulders and the Beatlesque Polar Bird get sat next to weird shit like the ticky On the Road, campy Intro to Tony, freak-beating Olivia and psych-rockin' Split Decision.
Believe me it all makes perfect sense.
Listen :
… still there's more …