More capsule reviews of the newest releases.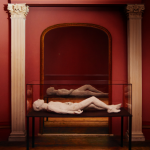 FEAR OF MEN – Loom
This highly-rated trio hails from Brighton, UK and this debut album justifies all the hype. There is a strong chamber pop vibe that enhances the obligatory post-punk indie pop stylings. The band manages a fine balance between atmospherics and arty edge with singer Jessica Weiss cemented associations with 90s bands like Curve and Lush. Recommended.
SCOTT H. BIRAM – Nothin' But Blood
Authentic country-folk-blues is top priority on Scott H. Biram's agenda. Focusing on that sweet combination of voice and acoustic/electric guitar, the lyrics become paramount. Dark stories about bad love and lost dreams – the words flow in visceral shapes – and it doesn't get better than what you are getting on Nothin' But Blood.  Highlights include the cynical "Gotta Get to Heaven", the bluesy "Only Whiskey" and the wistful "Never Comin' Home".
IAN ANDERSON – Homo Erraticus
To be honest, this solo album comes across basically like a Jethro Tull album. Anderson's voice and flute were the distinctive sounds of Jethro Tull's progressive rock and so it's no surprise then. Furthermore, when you consider that in 2012, Anderson actually released a sequel to Tull's classic Thick as a Brick LP, then it becomes obvious that there is no difference between the two projects. So for prog fans, this is a no-brainer!
JESSE BOYKINS III – Love Apparatus
What is thoroughly refreshing about Boykins is his ability to mix classic soul, 80s synth-pop and jazz influences into a seamless whole. I like the combination of the different sounds and styles to make up a uniquely enjoyable experience. The feel good vibe on this album is almost overwhelming – it's impossible not to instantly like tracks like "Greyscale", "I Wish" and "Show Me Who You Are".
BLACK PRARIE – Fortune
Nothing like true blue Americana to brighten the day. Black Prairie's fourth full length draws deeply from alt-country's now rich heritage. It's hard to get excited by the revocation of the warm yet edgy sounds of electric soul and acoustic twang in songs like "The 84", "Let Me Know Your Heart" and "Songs to be Sung". Rustic beauty.
… still there's more …