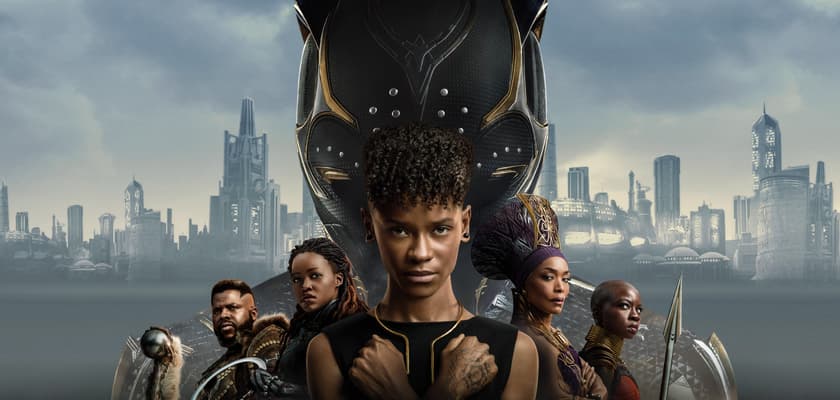 Black Panther: Wakanda Forever is a 2022 American superhero film based on the Marvel Comics character Black Panther. Produced by Marvel Studios and distributed by Walt Disney Studios Motion Pictures, it is the sequel to Black Panther (2018) and the 30th film in the Marvel Cinematic Universe (MCU). Directed by Ryan Coogler, who co-wrote the screenplay with Joe Robert Cole, the film stars Letitia Wright, Lupita Nyong'o, Danai Gurira, Winston Duke, Florence Kasumba, Dominique Thorne, Michaela Coel, Tenoch Huerta Mejía, Martin Freeman, Julia Louis-Dreyfus, and Angela Bassett. In the film, the leaders of Wakanda fight to protect their nation in the wake of King T'Challa's death. (Wikipedia)
Black Panther: Wakanda Forever is the proposed solution to a unique problem – how do you create a sequel when your main character is dead? Chadwick Boseman's untimely demise and Marvel Studios' decision not to recast T'Challa marked this sequel from the outset. Thus, this sequel had to achieve two objectives – pay the appropriate tribute to Boseman and carry on the Black Panther franchise in a manner that paid off commercially and artistically.
Did director Ryan Coogler pull it off? Did he solve the conundrum presented to him? Well, yes and no. It's fair that to say for two-thirds of this movie, there is enough action, intrigue and characterisation to keep the audience engaged while at the same time delivering the Boseman homage as required. However, as with the first movie, the third act is an absolute mess! This leads to an entirely unsatisfying denouement that in many ways, defy logic but unfortunately, is often par for the course for superhero movies.
Performances are on average strong enough from the female leads – Angela Bassett is an absolute boss in this, while Wright, Nyong'o and Gurira deliver the emotional weight necessary to tug at the heart strings. However, the insertion of Riri Williams (Ironheart) is a mistake and her armour looks so bad, it has quickly become a derisory meme – what were Marvel thinking? Seriously, this is your successor to Iron Man? Yikes.
Black Panther: Wakanda Forever is the final movie of MCU Phase 4 but is not quite on the same level as Doctor Strange in the Multiverse of Madness or Eternals. For once, we were disappointed that it did not advance the MCU narrative much at all. Worth a watch if you are a MCU or superhero movie fan.
Now showing in cinemas.
… still there's more …