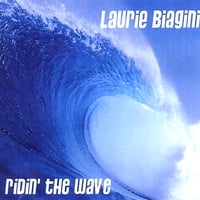 LAURIE BIAGINI Ridin' the Wave (Self released)
As an avid Beach Boys fan, it is always re-assuring and comforting to know that the Beach Boys remain high on the agenda on numerous modern-day musicians' list of influences and inspirations. Already this year, you can point to the sterling work of the Fleet Foxes and the Explorers Club as proof positive of this phenomenon.
Add British Columbia native Laurie Biagini to the burgeoning list. In fact, listening to Ridin' the Wave, you'd be convinced that Biagini is a lost-long Wilson offspring or distant relative (at least). Focusing on the Beach Boys 70s output, where Dennis and Carl Wilson held greater sway over the Beach Boys due to Brian Wilson's health – there is a certain affinity to those classic Sunflower/Surf's Up albums, not to mention traces of Dennis Wilson's solo Pacific Ocean Blues. 
In addition, Biagini's uncanny vocal invocation of the late great Karen Carpenter and Mama Cass, definitely brings in a different twist to the Beach Boys tribute that unfolds over the course of this wonderful album. The 16 tracks on display here (including Bambuzled – a heartfelt tribute to Dennis Wilson) effortlessly seque into one another like a seamless heady stream of sunshine pop extacy.
My only reservation is that the music sounds like a little "canned" and lacks the immediency of a live performance, which I guess was a recording choice by Biagini. That said, if its melodic 60s/70s SoCal classic pop you want, then Ridin' the Wave will scratch that itch and more…
Check out Laurie Biagini's Myspace page.