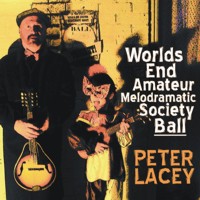 Singer-songwriter Peter Lacey believes in letting his music do the talking – which explains his rather laconic contribution to the PoP10…
1. Why play music?
Because its one of the only times adults get to play. And its often magical.
2. Who are your influences?
The Beach Boys, The Beatles, Stevie Wonder, Joni Mitchell and Claude Debussy to name but a few..
3. What is success?
Writing a good song.
4. Why should people buy your music?
So I can eat.
5. Who do you love?
My wife and kids..
6. What do you hope to achieve with your music?
To keep making it. 
7. Who comes to your gigs?
No one. I don't play live.
8. What is your favorite album (at this moment)?
Crosby Stills & Nash.
9. What is your favorite song (at this moment)?
Ravel's Violin Concerto in F
10. How did you get here?
Via my mother.
Lacey's new album Worlds End Amateur Melodramatic Society Ball is out now!