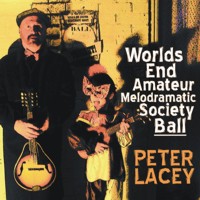 THE SKY IS FALLING!
British singer-songwriter Peter Lacey has been slogging away in the salt mines of sophisticated sixties-channeling pop-rock for over a decade now and it's clear that for Lacey, it's all about making the kind of music that he loves and that pays tribute to his musical heroes. Lacey has consistently drawn from the deep influential well that includes the works of Brian Wilson, Paul McCartney, Nick Drake, Van Morrison, Burt Bacharach, Elvis Costello, Andy Partridge and Marin Newell.
New album Worlds End Amateur Melodramatic Society Ball finds Lacey with yet another clutch of erudite musical offerings. As usual, Lacey is constantly restless in how he expresses his sonic vision indulging in chamber pop constructs (title track), folk pop reveries ("First Light"), jaunty Kinksian music hall ("Percy Cute"), psychedelic freak outs ("Magic Shadow Show"), dreamy jazz-blues ("Leave Well Enough Alone") and the like.
There's no doubting the sheer songwriting quality on evidence here – no short cuts, no audience pandering and no easy options – like I said before – it's all about the music. And no song merely repeats the formula of something else found on this endearing album. I love how a shiny melodic gem like "I Didn't Get Where I Am Today" is slotted somewhere in the middle and doesn't get to stand out because the array of powerful songs is so compelling. Spoilt for choice you might say.
Production values are somewhat lo-fi in parts but one cannot deny the heartfelt sentiments that pulsate throughout this arresting work. I daresay it might even challenge the two strongest singer-songwriter entries in 2012 so far i.e. Cosmo Jarvis' Think Bigger and Rufus Wainwright's Out of the Game. An album that certainly deserves much more attention that it will ultimately receive. Do the right thing and get this album now!
Preview the title track and check out the album trailer below.