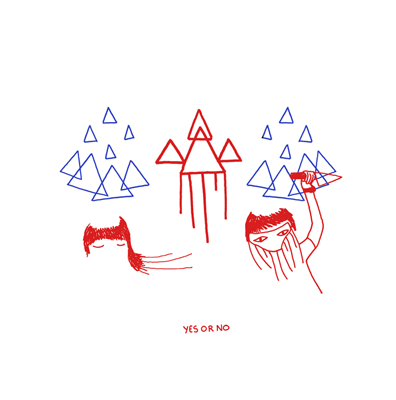 FRANCOIS VIROT Yes or No
 (Frenetic)
On rare occasions when listening to music you come across true gems that are so breathtakingly original and fresh that you have to step back and pause for a second, purely to lose yourself in the moment of what you are experiencing. These moments don't come along everyday, month or even year, but when they do you know that you will forever be trapped in that time. Like the first time your travel through the pages of your favorite book, you feel a tinge of regret when it is over because you know that you will never be able to go back and have that same experience again without knowing what is about to come. This is how you will feel listening to Yes or No by French Singer/Songwriter Francois Virot, someone who captures the very heart and soul of what we all love about music, and why it stirs such an emotional response in many of us.
Born in Lyon, France, Virot has been listening to and playing music from the tender age of nine. Into bands like The Melvins, Sonic Youth and Nirvana the young Virot picked up a guitar to imitate his idols. He is the drummer of Clara Clara, a French Electric Punk band whose vocalist is Virot's brother, and while touring with them and doing various promotions he has still found time to record and release his own material as a solo artist. His material is very honest and raw, playing in the intimacy of coffee houses and flats, Virot draws the listener into his music and the way his album Yes or No is recorded he has managed to capture this feeling perfectly. Honest and Raw is the best way to describe Virot's sound. 
The album starts with Not the One and showcases perfectly Virot's unique vocal style and ear for melody. Some may find that his vocal style is a little too whiny for their taste and this is perfectly understandable. I would certainly say that the way he sings can either be loved or hated, I was drawn to it instantly, where as some may run in the opposite direction. There is an almost childlike innocence to his lyrics and the style of his writing displays a vulnerability, this is one man and his guitar after all, no orchestras or accompanying musicians to hide behind, this is Virot fully in the spotlight. Recorded on a four track, a cough at the beginning of Island shows just what Virot appears to be aiming for, he wants you to feel as if you are sat infront of him, in the audience and his attention is focused on you. The basic technique of recording certainly makes you feel this way. 
There are somber points, like Fishboy and Where O Where A, but mainly Yes or No flows in a very positive and upbeat manner. Francois Virot is not just another singer/songwriter in the Damien Rice/Newton Faulkner/James Blunt mould, all of the production and recording techniques are out of the window on this album and for a debut it is stunning and emotional. 
(Adam Gregory)
Check out Francois Virot's Myspace page.