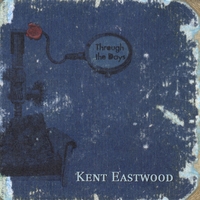 KENT EASTWOOD Through the Days (Self-released)
Regardless of whether you like the music, there's much to be said in the way of brownie points for a musician who steadfastly accompanies the promotional soft copies of his new album with a list of thoughtfully detailed explanations of how the songs on the album came about. In an age where most bands out there are happy to just stick their songs up on Myspace and Youtube and leave it be, someone who makes a sincere effort to connect with us reviewers is just endearing.
Which was why I really, really wanted to like Kent Eastwood's new release, Through The Days. When the album slipped my attention and relegated itself to background noise a few tracks in, I attributed it to the distractions of work, and resolved to pay it more attention when I wasn't busy with the stacks of paperwork on my desk. By the time I had been through my 3rd listen however, it was beginning to dawn on me that it just wasn't a terribly arresting record.
That's not to say that it's a poor album: taken on its own merits, one might find a few moments of eloquent poignancy that resonates with you. For the most part, Through The Days is vaguely melodic muzak.  That particular judgment might be a bit harsh, but it's a reflection of the disappointment I felt when the songs I heard didn't exactly match up to the descriptions so earnestly set forth by Mr. Eastwood.
Take the album opener, Differences, for example. The song is described as a song of urban alienation and disorientation, which is a fine song concept to start with. The track itself, however, is a mediocre melodic, mid-tempo number that doesn't depart much from the simple keyboards and drums instrumentation that it starts off with. As an album opener it's rather poor at capturing one's attention. Thankfully, second track on the record, Make A Difference, is much more promising, with a much more compelling melody and texture to its flow. Soft waves of electric distortion and guitar rhythms keep one's attention aroused while the melody does a good job of finding a spot in between your ears and digging a hole there into your memory cells. Someone Like You is passable, though not quite as good as the previous track. Time And Time Again though, at 6:10, is probably 2 minutes too long, and falls prey to the central irony of its premise in being yet just another John Lennon tribute song. The rest of the album plodded along uninterestingly for me, with only Silence and Better Place standing out for me.  (Although why Silence disappears quite abruptly into a patch of literal silence towards the end, I can't really quite comprehend.)
It's hard to give this album a negative review when I really wanted to like it in the first place, but if I were to be honest I wasn't terribly impressed. Eastwood comes across as someone with the capacity to be mesmerizing at times, but this record felt too indulgent and lazy to me, lacking any real imagination or pop discipline. Give the tracks mentioned above a listen if you're so inclined, but as an album, Through the Days goes wide of the far post for me.
(Samuel C Wee)