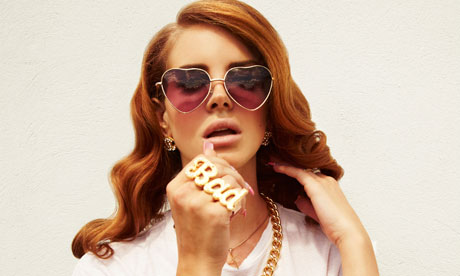 LOVE ME… PLEASE
Perhaps (too) much has been said about Lana Del Rey, but plastic surgery aside, her debut impresses at first listen, with its soaring melodies and cinematic sound. Her drawling voice mystifies the record, making it much more interesting to listen to than an average mainstream pop record.
Her lyrics are very much centred around the scene or image she wishes to depicts, which suits the cinematic music she makes. In "Born To Die", she teases 'Come and take a walk on the wild side/Let me kiss you hard in the pouring rain', and in "Off To The Races" she describes a 'swimming pool/glimmering darling/wipe bikini off with my red nail polish/watch me in the swimming pool/bright blue ripples/you sittin' sippin' on your black crystal'. Her songs heavily explore the high life, with its glamour, in tracks such as "Video Games" ('Swinging in the old bars/swinging with the old stars/living for the fame/kissing in the blue dark'), "Diet Mountain Dew" ('Baby put on heart-shaped sunglasses/cos' we gonna take a ride') and "This Is What Makes Us Girls" ('Sweet sixteen and we had arrived/baby's table dancin' at the local dive/cheering our names in the pink spotlight/drinking cherry schnapps in the velvet night'). She even pays an unusual amount of detail to fashion, adding to the life of glamour and lifestyle she depicts in her songs, such as 'slipping on my red dress, putting on my make up' ("Off To The Races"), 'blue jeans, white shirt' ("Blue Jeans"), 'I'm in his favourite sundress, watching me get undressed' ("Video Games"), 'put your red dress on, put your lipstick on' ("Carmen"), 'got my red dress on, dancing in the dark' ("Summertime Sadness"), and the list goes on.
Her other sources of inspiration such as money ("Million Dollar Man"), fame ("National Anthem"), romance ("Dark Paradise"), together with catchy tunes, moving string arrangements, differing use of percussion and an unusual voice, make her music a potent and heady cocktail that makes its presence felt in your head even after a day. It seems her debut album is a slick and calculated effort, which in fact bears many resemblances to current chart-toppers, such as Gaga who sings about pretty much the same topics, but instead of expounding the modern high life, Lana Del Rey succeeds in packaging her music as different from the norm (mainstream pop) by channelling an old-school sophisticated lifestyle and image through her songs and using beautiful, melodic and memorable arrangements that are easy to catch. She may not be a modern poet as other indie artists have been lauded to be, but Born To Die is an enjoyable listen, provided that the listener does not get tired of her breathy and drawling voice that may be annoying at times.
(Melissa Ng)