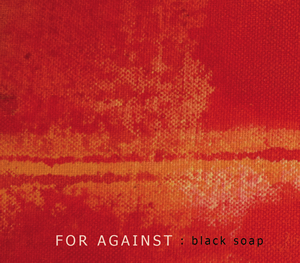 FOR AGAINST Black Soap EP (Words On Music)
To the uninitiated, For Against may come across like a post-punk revivalist band but in actual fact the band's recording career began in 1985 but definitely ahead of the curve. For Against have been parlaying their Joy Division-channeling pop-rock music over the course of twenty-six years and ten albums. And here's even greater proof of For Against's street cred as this 3-track EP presents previously unreleased recordings from 1984(!) with the band's original line-up viz. Harry Dingman III (guitar), Greg Hill (drums) and Jeffrey Runnings (vocal/bass).
Recorded on 4-track cassette, the songs Black Soap, Dark Good Friday and Amen Yves (White Circles) are stark, reverb-drenched explorations of the post-punk guitar aesthetic. These songs stand up to close scrutiny despite the austere nature of the recordings, reminiscent of the melancholy energy of Warsaw/early Joy Division. For post punk scholars, this EP is a veritable treasure trove of wondrous gems.